Our new feature documentary, Mamu Ensemble Together, which serves as a powerful statement to the power of music uniting people across cultures, is out in September 2021. Screenings of the documentary are scheduled in Mani-utenam, Saint-Adelphe, Rimouski, Amqui, Saint-Jean-Port-Joli, Trois-Pistoles and Trois-Rivières. See the schedule (French only).
Note: The documentary is also available in English. If you would like to schedule a screening in your community, please fill out the screening form.
Filmed in Mani-utenam, on the North Shore of Quebec and in the mid-Mauricie in 2020, the documentary chronicles the journey of musicians from different cultural background coming together to share a message of hope and to reflect about diversity, multiculturalism and the use of music as a tool for dialogue.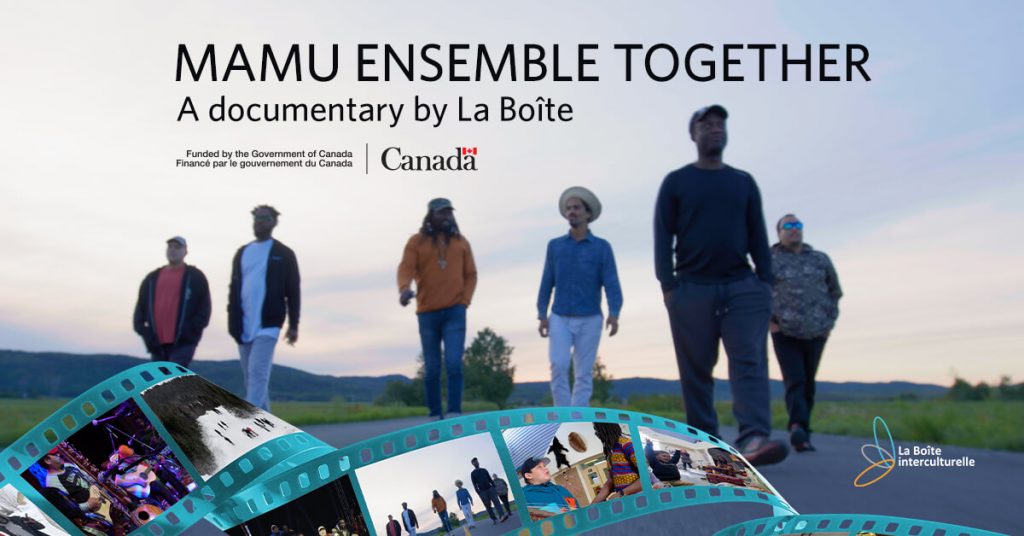 To schedule a screening of the documentary in your community,
please complete this form.
https://forms.gle/CdP65QRAP2GPSNs87
If you would like more information, do not hesitate to contact us.
This is a compelling documentary with a big heart.

The filmmakers and the musicians travel with us through the North Shore of the St. Lawrence in Quebec and in the Mekinac region introducing us to the synthesis of their musical cultures. With their most inspiring music, we join them in their beautiful efforts to oppose racism and honour their diversity and our human bonds.

At the center of the film, the musicians meet with the children of Maliotenam and something magical happens. We see their natural curiosity, as the children and the musicians reach out to each other. The musical exchange, the people and the musicians are inspiring.

Through this documentary, we can see that we are all participants of the human journey.

Dr. Laura Sky, documentary filmmaker
La Boîte interculturelle wishes to thank all her partners and the musicians who took part in this project: