Toronto, October 18, 2022 — Today, the Chamber of Commerce of Mékinac unveiled the finalists for the 16th Desjardins Recognition Award during a press conference under the theme 'Accomplices in audacity'.
This edition of the Desjardins Recognition Gala is intended to highlight the efforts and resilience of businesses and organizations in the MRC de Mékinac. During the press conference, La Boîte interculturelle was announced as being a finalist in the service business category.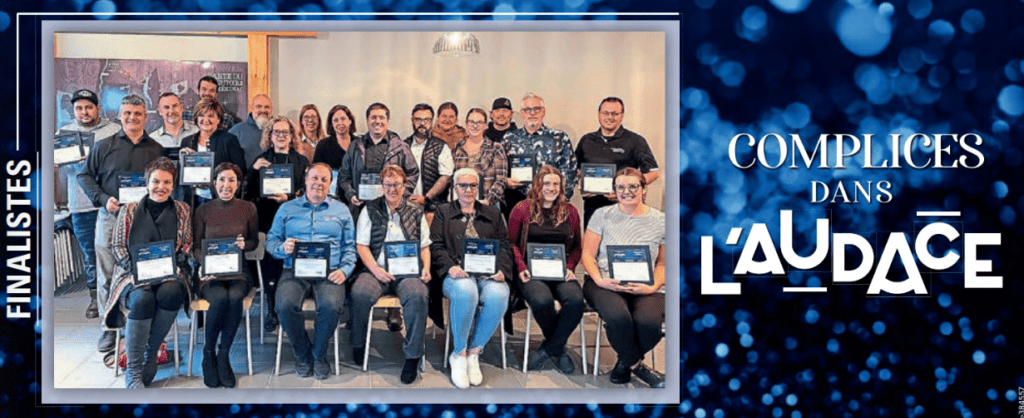 La Boîte interculturelle creates unique experiences in collaboration with artists and partners wishing to strengthen ties and forge new ones between communities.
La Boîte distinguishes itself by:
Its commitment to rural areas
Its way of implementing innovative and concrete initiatives
Bringing together and creating links between citizens from different cultural backgrounds
Building stronger communities while encouraging creation, growth and dialogue.
It offers services ranging from a short or long-term collaboration, the co-production of a project, the creation of residencies and artist workshops lasting several days, as well as a community event.
La Boîte began its activities in 2018. Since then, several projects have been completed, including:
four international projects,
five major projects in Quebec between 2019 and 2022,
the production of two documentaries, Résonance culturelle 2018, premiered in Morocco at Visa for Music and Mamu Ensemble Together 2020 presented in eight communities across Quebec in the fall of 2021.
La Boîte has just completed Weaving and Reweaving, a provincial project, which will be the subject of a short film and the production of the first rural intercultural manifesto in Quebec.
Quotes
« As president of La Boîte interculturelle, and on behalf of the members of the board of directors, we would like to thank the jury for this nomination. We will continue to invest in the full success of our actions, with the greatest respect for our partners and collaborators.»

Faouzi Metouilli, President, La Boîte interculturelle
« For society to truly embrace diversity it requires ongoing effort and the right tools for learning. La Boîte Interculturelle is committed to these goals and produces dynamic events and materials to help drive change at both the individual and regional levels. I'm truly delighted by the recognition of the Gala reconnaissance Desjardins today, and thank everyone for this honour.»

Suzanne Leonard, Secretary, La Boîte interculturelle
In Brief

Our approach is characterized and guided by three fundamental elements:
Culture – What distinguishes us from one another—our way of life, traditions and customs—but also something that can be shared with others.
Exchange – An act imbued with the desire to share and learn from each other.
Change – To become the facilitators of changes we wish to see around us.
Contact
For further information, please contact :
Faouzi Metouilli
President, La Boîte interculturelle
[email protected]